Updated 2016-12-16 (updated textures and morphs)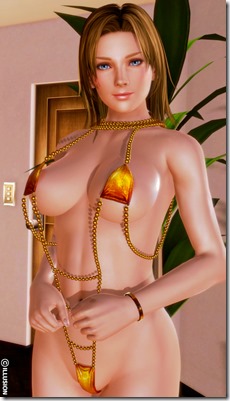 Have in mind this can only be done in HS, so don't ask me to backport it to previous games, it's technically impossible.
Slot/IDs used:
Head 200004
HairB 201055
HairF 202055
Eyes 254925
Eyebrow 251055
Eyeshadow 253700
Eyelashes 252055
Face Textures 250057
Cheeks 256050
Lips 257004
CustomList:
roy12_tina_00.unity3d
Install:
Extract the abdata folder of the 7z into your HS main directory, if asked to merge, say yes.
Same for Update 01 and Update 02.
For 2016-12-16 update, replace existing files and reload her appearance from the new card.
Usage:
You can either put her card in a room, or load her appearance to a new character (I included the card). If you use the wide slider mod, you might have to edit the eyes/hair location, as well as the body. I don't use it since I've not had any need to, and I can't make a card for both with and without wide slider, you can just adjust as necessary.
As for the update, they're slight fixes and additions, read the readme.
For 2016-12-16 update, just replace existing files and reload her appearance from the new card.
Uninstall:
Remove these files:
abdataListcharacustomroy12_tina_00.unity3d
abdataChararoy12_tina*
Changelog:
– 2016-12-16 Update: Complete texture revamp, new morphs and some fixes to hair alpha ordering and textures. Removed additional face types, now there's cheeks and eyeshadows to achieve the same thing.
– Update 02: Removed the neckseam.
– Update 01: Added HS tongue, fixed tears, added optional blush-less texture.
– Initial version.
Credits:
Team Ninja/Koei Tecmo
Download: