Head Type (F) 200016
Face Type (F) 250181
Eyebrow (F) 251179
Eyelash 252179
Eye Shadow 253199
Lip Type 257192
Cheek Color 256061
Eye (F) 254743
Hair Front 202197
Hair Front 202210
Hair Front 202211
Hair Back 201195
Hair Back 201196
Hair Back 201234
Hair Back 201235
CustomList:
roy12_ayane_00.unity3d
Install:
Extract the abdata folder of the 7z into your HS main directory, if asked to merge, say yes.
Same for any updates.
NOTE FOR USERS USING HANMENNOASURA'S PATCH: Version 1.2 replaces the original textures and also adds new hairs. However, I believe you can retain the 4k patch if you only replace the list in abdata\list\characustom and the hair files in abdata\chara\roy12_ayane.
Of course, if he upgraded the hair textures, you will lose these.
Usage:
You can either put her card in a room, or load her appearance to a new character.
Uninstall:
Remove these files:
abdata/List/characustom/roy12_ayane_00.unity3d
abdata/Chara/roy12_ayane/*
Changelog:
1.2:
Added two hair styles
Modified her face color texture to better match the body
Removed the scalp from the face texture and added it as part of the hairs
Modified the normal texture
02/04/2016:
Added 4k Patch by HanmenNoAsura.
Initial version.
Credits:
Team Ninja/Koei Tecmo
Outfit from screenshot:
Mizuryu Kei's CAST Outfit (find it in the Mods Index under the HoneySelect category)
Purple Bikini ported by FoolBoy
Vanilla wet shirt and the hotpants from my Yokko mod (Mods Index too)
"Alter" card (Demon Ayane):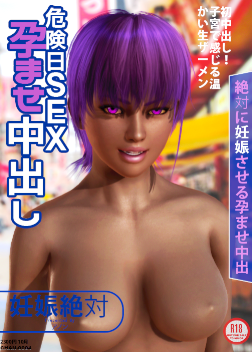 You have to make the nipples visible.