Updated 2017-01-03 (improved textures, face morphs, weighting fixes for ponytail, added her own cheeks makeup).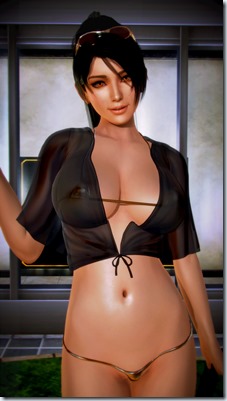 REQUIREMENT: You'll need Wide Slider. Else you'll get something like this.
Slot/IDs used:
Head 200006
HairB 201170
HairF 202175
Eyes 254725
Eyebrow 251170
Eyelashes 252170
Eyeshadow 253701
Face Texture 250170
Lips 257104
Cheeks 256052
CustomList:
roy12_momiji_00.unity3d
Install:
Extract the abdata folder of the 7z into your HS main directory, if asked to merge, say yes.
Usage:
You can either put her card in a room, or load her appearance to a new character (I included the card).
Same for Update 01.
Same for Update 02, but reload her appearance from the new card to see the changes.
If you get a white face with purple lashes after installing, please redownload and reinstall the mod.
Uninstall:
Remove these files:
abdataListcharacustomroy12_momiji_00.unity3d
abdataChararoy12_momiji*
Changelog:
– Update 02: Improved diffuse and specular textures and added cheeks makeup overlay. Improved morphs for the face, no longer so extreme. Fixed her ponytail so it doesn't bend in weird ways, it has better weighting and animates better over all.
– Update 01: Removed neck seam.
– Initial version.
Known Issues:
The hair ponytail can clip a bit through the body with some poses since I've not found how to modify the collision, if that's even possible. If you're posing you can probably fix that with the additional bones mod.
Credits:
Team Ninja/Koei Tecmo
Direct Download: